Welcome to the Bit Dungeon Wiki
Edit
Welcome to the Bit Dungeon Wiki! This is a new online game where you travel room to room, dungeon to dungeon, defeating monsters, collecting new gear, and learning new magic! Help expand the Wiki by editing, adding pictures, and creating Pages! Have Fun!
You and your wife were captured by demons! You have been trapped in a dungeon for a thousand years asleep… You wake up trapped in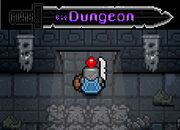 cell, grab your weapon and let the quest to find your wife begin!
WARNING, THIS IS A PERMANENT DEATH GAME
The save feature is only there to stop playing and pick it up later.
if you die you loose all items and start over with the current money.

Flash Version 5.9 - Ipad/Iphone Version 1.13
The game is endless...you can end the game after level 4, or if you have a soul. Try clicking on it.
When you kill some monsters and level up, three permanent upgrades will appear on the screen (+5 damage, +5 critical, +5 health).